good grief, it looks like it's Yahoo Mail's turn to go down in flames: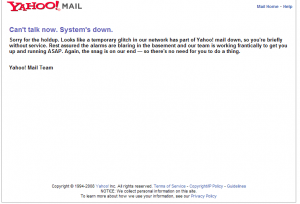 I'm sure they will have service restored soon. But it's particularly more galling given that 1. I snarkily defended Yahoo Mail during the gmail outage (oh, karma!) and 2. unlike gmail, I'm a paying customer for Yahoo's Plus service (no ads, more storage, extra features including mail aliases).
This, in a nutshell, is why the Cloud sucks. But even these hassles aren't enough to make me want to go back to the Eudora days where I had to manage my own mail archives locally. Email is inherently a pain no matter how you do it – the only real way to be free of it is to declare Email Independence.