(Steven asked for information about Asus notebooks, but for some reason I couldn't log into the system to leave a comment, even though I am supposedly a registered user. So, I'll just respond here.)
Asus is well-known for excellent notebooks. It's one of those OEM brands, like Sager, that don't have a lot of retail presence but to which notebook aficionados often turn, for build quality equal to or exceeding that of the majors like HP/Dell, but with better components and lower price. In the case of Sager, Dell literally just slaps their logo on the case and resells as their own brand.
There's no better resource for notebook reviews than, of course, NotebookReview.com. They have a typically detailed and thorough review of the base Asus G2 model (which differs from Steven's choice in a few components but is otherwise the same). That's the best place to get an idea of the real performance, aesthetics, build quality, screen, etc – all the intangibles that you can't get off a spec sheet.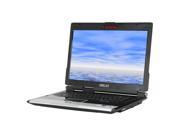 The model Steven is interested in, the ASUS G Series G2S-B1 Intel Core 2 Duo 17.1″ Wide UXGA, is available all over the place online: at NewEgg for $2300
, at Buy.com for $2064
, and at Amazon for $2200
. (I am an affiliate for each of these retailers).
I don't think you can go wrong with this machine if you're in the market for a serious desktop replacement (as long as you don't intend to lug it around).