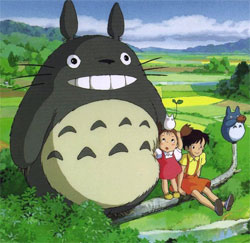 A few years ago, I posted a few guidelines for in kid-friendly anime, and we had a really good discussion. That was long ago enough that I wanted to open the floor again to see if I could solicit more suggestions and ideas. As a reminder, here were my three basic requirements:
1. No fan service.
2. Young characters.
3a. A moral lesson or example of personal growth,
and/or
3b. A sense of wonder.
(see the older post for more detailed explanations of what I mean by each of these)
I know that in the past 6 years there has been a LOT of new anime released and I have had barely time to catch up with my own backlog from back then let alone make any headway on new titles. But I am resolved to watch anime with my kids instead of just for myself. So please do spread this post around and help me build up a great list for posterity. Old anime, new anime, whatever – just please keep the suggestions flowing.
My girls are now ages 9 and 4. It's amazing to me that when I wrote the old post, my elder daughter was only three! Time, etc…