Note to anyone who hasn't played World of Warcraft in a while – the Cataclysm has occurred. No, I'm not talking about the emergence of the dragon aspect Deathwing, whose eruption from the elemental plane has rent the continents and reshaped the world; I'm talking about this: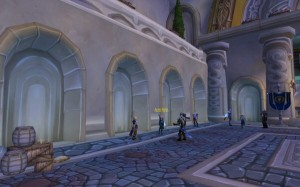 The portals in Dalaran are gone, partly to encourage players to go out and experience the world. That means that if you have low level alts hearthed in Dalaran, you might be royally screwed… because getting out of Dalaran, and Northrend for that matter, is not exactly a cakewalk.
(tip: check your hearthstone before embarking on an epic run home like Shamus did. You may have been reset to your race/faction's home city, which means getting out of Dal is trivially easy instead of a major grind.)
Bonus – Deathwing is going to randomly show up in a zone on Azeroth and kill everything and everyone – mobs, players, NPCs, everything. Fun!