I am continuing my synopsis and screenshots of the first episode of Samurai Jack.
Follow below the fold… spoilers abound, of course.
The emperor tells Jack what cruel fate has befallen his people and warns Jack that the sword is only a tool, and that his true weapon is his righteousness. Jack leaves for Aku's stronghold, promising success, but as he rides off, his father warns him that evil should not be underestimated.
Jack challenges Aku, revealing himself as the son of the emperor and declaring his intent to destroy Aku and free his people. Aku is not really impressed.
Jack reminds Aku about the sword…
… and Aku takes Jack's point.
The two battle, Aku's shapeshifting power versus Jack's training, skill, sword, and righteousness.
As Aku lies defeated, Jack prepares to deliver the final blow…
but before the Samurai can strike, Evil finds a way.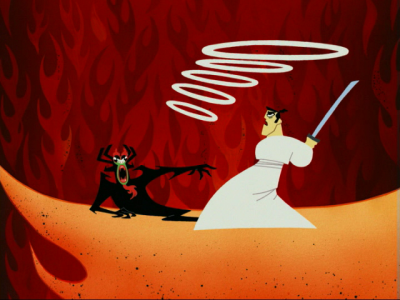 Jack is hurled through time, and the saga begins.