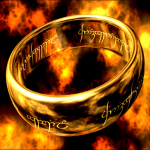 On Facebook, one of my friends posed an innocent question:
How come the ring doesn't make Sauron invisible?
Indeed! Out of the mists of Facebook, a truly awesome discussion ensued. I found this reply the most intriguing and erudite:
The Ring doesn't actually make someone invisible in the sense we understand the term. It shifts its bearer into the world of the Unseen (which is why it can't hide Frodo from the Nazgul on Weathertop–they already dwell in the World of the Unseen). As a former Maia, Sauron simultaneously dwells in Middle-earth and the realm of the Unseen–so the Ring would not make him invisible.
Surely we haibane can contribute to this critical topic. What say you all? Agree or disagree with the theory above?