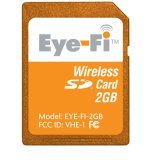 This is just too perfect a convergence to ignore. Imagine a SD storage card, with 2GB capacity, that also houses a Wi-Fi transmitter
. It's real, and apart from the corniest name ever (Eye-Fi) it's probably the single coolest product I've seen in a while (yeah, including the iPhone). Here's what it does:
Uploads photos automatically from Eye-Fi Card inside your camera. Built-in Wi-Fi connects to your home network.
Provides free and unlimited photo uploads to your computer and your favorite photo or social networking website via the Eye-Fi Service. Photo transmission is secure and private.
Supports sharing and printing websites, including KODAK Gallery, Shutterfly, Wal-Mart, Snapfish, Photobucket, Facebook, Webshots, Picasa Web Albums, SmugMug, Flickr, Fotki, TypePad, VOX, dotPhoto, Phanfare, Sharpcast and Gallery.
Handles full-resolution jpeg images and intelligently re-sizes photos if limited by your chosen photo or social networking website.
As long as you're within range of a hotspot, you can upload your pics for effectively infinite storage. And if you're out of range, you've still got a respectable 2GB of storage on board. For someone like me who does a lot of family photos and videos at home, this is basically a godsend (esp considering that I am presently relying on a mere 256 MB card for storage).