INTRODUCTION
This page describes a "budget gaming" system build with a fixed price point target of $800, which will be updated on a roughly quarterly basis. Anyone looking for a budget system probably can't afford to devote a system exclusively for gaming – I certainly can't. That is why the Budget Gamer Box is designed as an all-around system for home use as well, with mirrored 1TB drives for data security. If you're looking for a more powerful system, however, consider the Professional Gamer Box which is tailored to the $1200 price point.
Also, a note about the AMD vs Intel debate. At our price point, the choice comes down to either an Intel Core i3 or an AMD FX-6300. However, extensive testing at Anandtech shows that while the AMD excels at multi-thread benchmarks, most real-world computing (including games) is a mix of multi-threaded and single-threaded use, and Intel retains a significant advantage here. Also, Intel has a tremendous TDP advantage, which is an important consideration. These disparities may change with future changes to AMD's architecture, but for now we are focusing solely on Intel for our build.
PRICE SUMMARY
CPU: Intel Core i3-3220 Dual-Core Processor 3.3 Ghz ($123.79)
MOBO: Gigabyte GA-H77-DS3H ATX LGA1155 Motherboard ($98.99)
GPU: Gigabyte AMD Radeon HD 7850 2 GB ($194.99)
RAM: Corsair Vengeance 8GB (2 x 4GB) DDR3-1600 Memory ($57.98)
HDD: Western Digital Caviar Blue 1TB 3.5? 7200RPM Internal Hard Drive ($73.52)
HDD: Western Digital Caviar Blue 1TB 3.5? 7200RPM Internal Hard Drive ($73.52)
PSU: Corsair Builder 600W 80 PLUS Bronze Certified ATX12V Power Supply ($66.24)
CASE: NZXT H2 Classic Silent (Black) ATX Mid Tower Case ($99.99)
OPTICAL: Asus DRW-24B1ST/BLK/B/AS DVD/CD Writer ($19.97)
full list of components at Amazon.com
COMPONENTS
CPU: Intel Core i3-3220 Dual-Core Processor 3.3 Ghz
This dual-core hyperthreading CPU has a low thermal envelope (77W TDP) and fast 3.3 GHz speed. We save money by using the Core i3 rather than the i5, which allows more room in the budget for the graphics card, without any perceptible sacrifice (since games are limited primarily by the GPU, not the CPU).
MOBO: Gigabyte GA-H77-DS3H
Since we will not be doing heavy overclocking, extra fans, or running a dual-graphics card setup, we don't need an expensive motherboard. This Gigabyte H77 board offers everything we really need: full ATX layout, dual PCI Express x16 slots, 6Gbps Serial ATA, USB 3.0, and the modern UEFI interface.
GPU: Gigabyte AMD Radeon HD 7850 2 GB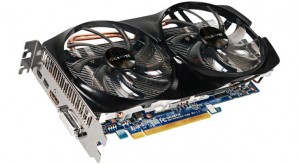 We can apply our savings from choosing an i3 processor towards a Radeon HD 7850, which was well-received by Anandtech and is fast enough to handle pretty much anything, and by far the best gaming value in the $200 range. There's little danger of the Core i3 being a bottleneck in our single-GPU setup.
RAM: Corsair Vengeance 8 GB DDR3 1600 MHz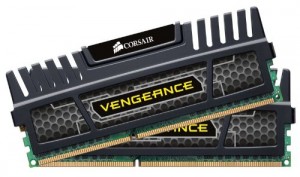 This 8GB DDR3-1600 Corsair kit (8-8-8-24 timings) has a lifetime warranty and aggressive heatsinks built-in, yet remains a great value. Remember, we need a 64-bit operating system to fully exploit 8GB of memory, and this matched/paired set will help optimize disk cache and access times from the mechanical hard drives. Note that there will still be 2 empty slots for a future upgrade to 16GB on the motherboard.
HDD: Western Digital Blue 1 TB 7200 RPM
(x2)
These reliable, solid SATA 3 drives are a step above Western Digital's "Green" budget/economy drives and below their more expensive "Black" enterprise-ready drives in performance, running at a fast 7200 RPM (reviewed at StorageReview.com). They have a generous 2-year warranty which includes WD's mail-in program, which allows you to request a replacement drive under warranty first, to copy your data over from your old one, before sending the old defective drive back. Using two of these drives as a mirrored pair in our build means you will never have a single day's downtime or data loss. Don't forget to add 2 of them to your shopping cart!
PSU: Corsair CX 600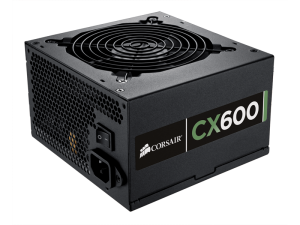 Corsair's CX600M offers modular cabling, 80 Bronze Plus certification, a 5 year warranty, and a hefty but quiet fan, all for a competitive price. The 600W capacity will be more than sufficient for the build, since we are running only one graphics card. As far as capacity, 600W has enough headroom to run two of these GPUs should the need arise in future upgrades.
CASE: NZXT Technologies H2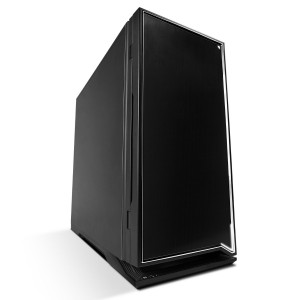 This affordable case has premium features like a three-setting fan control switch, a built-in SATA drive dock, rubber-grommeted holes for cable routing, and a ventilation cover on the top to keep dust and debris from falling in. This case is built for quiet operation, which makes it a good fit with the H77 mobo and Radeon card we've chosen. It is also available in white, as an option.
OPTICAL: Asus 24xDVD-RW

Even in this age of digital downloads, an optical drive is still a must-have, so this all-around ASUS DVD burner gives you the flexibility you need for installing software or backing up data.
AUDIO: none
The Gigabyte motherboard has built-in digital audio that is more than sufficient for gaming and casual music or video, when you use USB or S/PDIF headphones and speakers. So we can save a little money here.
CABLES: StarTech 18in Right Angle SATA Cable
and High-Speed HDMI Cable
These are inexpensive when ordered as "add-ons" from Amazon and will definitely come in handy, for the initial build, upgrading or adding drives in the future, and hooking up the PC to a TV or other display device for media viewing.
OPERATING SYSTEM: Windows 7 Professional SP1 64bit
Windows 7 is still the best choice for maximum compatibility with all games and applications, so we are playing it safe and avoiding Windows 8. Who wants to live without a Start Menu, right? We choose the 64-bit version to make sure we can use all our 8GB of RAM and we use Professional instead of Home Premium so we can do the mirroring of the two hard drives.
PRODUCTIVITY: Office 365 Home Premium 1yr Subscription
(5 PC license)
If you also plan to actually get some work done on this machine, you'll need Microsoft Office. The new Office 365 allows you to pay an annual subscription fee for an always-current, latest version of the office suite, which can be installed on up to 5 computers in your home.
MONITOR: Viewsonic 24-Inch LED 1080p and Speakers
A 24" monitor is the optimal size for maximum productivity. This svelte, elegant Viewsonic monitor has an LED backlight for up to 50% better power savings and integrated speakers, allowing for reduced desktop clutter. This monitor has the standard DVI and VGA inputs and full HD resolution of 1920×1080.
KEYBOARD: Corsair Vengeance K60 Mechanical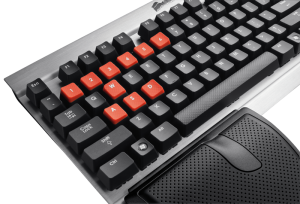 This full-size mechanical keyboard (reviewed at TechReport.com) is surprisingly affordable for such high build quality, with a sleek aluminum base and Cherry MX Red switches for a fast linear response that greatly reduces muscle fatigue. It also has top-end goodies macro keys, a USB port, media buttons and even a volume scroll wheel made of textured aluminum. Though more expensive than cheap rubber-dome keyboards, this keyboard is only half as expensive as other mechanicals with fewer features. And once you type on a mechanical, you can't go back.
MOUSE: Logitech Wireless G700
This sculpted, laser-tracking mouse has a total of 13 fully-programmable buttons, natural curves to fit your hand and smooth-gliding feet for precise control. It works in wireless mode using the built-in receiver or can be plugged in via removable USB cable that doubles as a charger for the internal (replaceable) lithium battery.
HEADSET: Corsair Vengeance 1500 USB Dolby 7.1
This USB headset boasts great dynamic range and deep, plush earcups for superior noise isolation and Dolby 7.1 quality. We use the USB connector instead of analog because we do not have a sound card in this build, but there's no compromise on sound.
ORDER
All components can be ordered directly from Amazon.com
and are eligible for expedited shipping with Amazon Prime.